Online Name Card –
Connect the World with One Digital Name Card.
Upgrade the way you connect with clients and customers! Our Digital Name Card is the ultimate solution for sharing your contact details anytime, anywhere, with anyone. Imagine having the power to send an online business card link without any limit, anytime you want. Our E-business card empowers your team to accelerate your customer lifecycle with just a tap. With this innovative tool, you can maximize your sales opportunities and make lasting impressions. It's time to take your brand to new heights and stay ahead of the competition.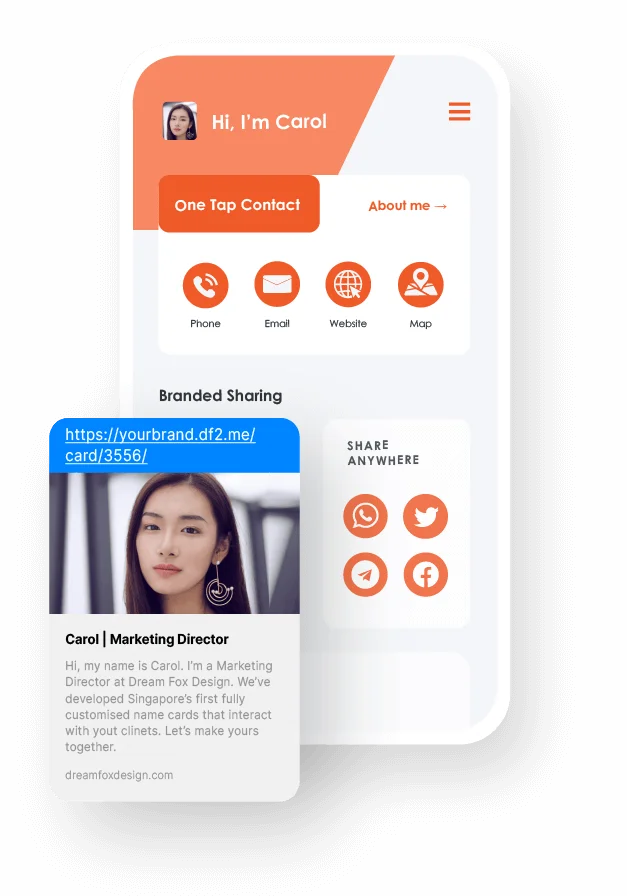 TL;DR –
The Digital Name Card Advantage
NEVER HAS AN ELECTRONIC BUSINESS CARD BEEN THIS
CUSTOMISABLE & SUSTAINABLE
First in Singapore with a fully interactive online business card! Spread the word or let your customers do it for you.
professionally designed –
Custom designed, made for your brand.
Your e-business card's illustrations, color scheme, layout, virtual background and every contact field are all custom designed individually by our in-house designers according to your business or brand. Portray formal photos of yourself in a business attire to fun pictures of skydiving, or even consider a video profile! 
Limitless Sharing –
Share your name card across the world.
Both you and your clients can share your online name card to their contacts overseas – it's a fluid referral from local to global. This is a virtual business card that can be shared infinitely with a massive online social outreach: Facebook, WhatsApp, Email, LinkedIn, etc. Multiply your leads tenfold with one timeless name card to be used without limits, all with just a digital name card and a tap on the phone. 
Optimise Link Previews –
Bring your share game to another level.
Because it works like a website, you can up your share game with professional snippets and greetings on major social platforms. And honestly, who would download a digital business card app to view a stranger's contact? Be seamlessly connected across WhatsApp, Telegram, Facebook and Messenger, and all your social media profiles! LinkedIn is no longer the only place for professional connections. When others share your electronic card, your profile networks for you.
TAP 'N SAVE –
Your contact info saved on their device.
With a 'Save to Contact' function on your digital name card, your viewers can now save your virtual contact file (VCF) to their phones easily, with all your basic contact info automatically filled in for them. Congratulations, you've beaten your competitors to the punch by being the first in your customers' contact list!
ONE TAP ACTION –
Clickable links to your contact details.
Have you ever had a name card that your customers can just tap on to call you? Get your customers to Skype with you or call you on Viber with clickable links. Want to embed your social media links and web links for extra engagement? Done! Make your electronic business name card actionable with immediate points of contact.
LIMITLESS PERSONALISATION –
Break the space limit of the old name card.
Break free of the old 3.5 by 2 inches of space on a traditional paper business card. Want to include your experience and background in your profile? Are your achievements and testimonials important for your customers? Solid, let's add that into your virtual business card. Throw in some short descriptions and pictures of your services, and it's hook, line and sinker. 
An E-Business Card, Priced And
Designed for any Business. Just Tap and Send.
Best price to value. Don't believe us? We challenge you to compare! Check out our digital business card subscription fees – one of the most affordable in the industry – to keep your name cards as sustainable as possible for a lifetime.
For a team of 5 to 19 pax
For a team of 20 to 49 pax
For a team of 50 to 499 pax
Don't See What You Need?
Require 500 or more Digital Name Cards? Or perhaps corporate digital business cards following specialised design guidelines and more than two design iterations?

Let's make a special quotation exclusively for your company based on your exact design requirements and any customisation you might be keen to explore.
How We Succeed –
The Digital Name Card Design Process
Interested in how we develop key features for your virtual cards and your brand exclusively? Tap on the arrows to look through our simple design process. 
Getting Started
The first thing's to contact us. We'll then follow-up with a call or meeting to give you a product demonstration, understand your business requirements and address any questions you may have about having a digital name card. After the meeting, we'll send over our comprehensive product deck and a free quotation! 
Contract Signing
Once you you decide to engage us, an invoice and a contract will be prepared for you. We require a 50% deposit (20% for projects exceeding 99 name cards or 100% for projects under 20 name cards) before we start on your digital name card, due to our allocation of dedicated manpower and resources to see the project through. 
Gathering of Assets
Moving on, we'll require your brand design guidelines and any design requirements you'd like included on the electronic business card. Don't worry about what you have or don't have, as we'll be assisting you at every step of the way.
Examples of Brand Assets We Need: Visual Identity Guidelines, Logos, favicons, brand guide, softcopy of your paper name cards, etc.
Card Information: Name on card, telephone numbers, WhatsApp, email, social media links, etc. We'll send you an excel sheet for you to fill up the information.
Design of Digital Name Card
At this step, we'll work on the first design iteration of your name card based on your functional and design requirements. You can think of this as the 'mock-up' phase. The link to the name card will then be sent to you for approval. If you have a visual identity guideline, we'll customise the design of your electronic business card to adhere to your design guidelines. If not, we'll do up the design of your name card based on the assets provided to us.
At this point, you can request for design revisions to better suit your branding preferences.
Team Launch
Once designs and functions have been approved, we'll set up the digital name cards for the people in your organisation, based on the number of digital name cards you've purchased. Each name card will be personalised with their own unique link, and of course their own unique set of photos, phone numbers and contact information for each of your staff.
During the service, you can conduct a usability test on all the functions on the name card and review the contact information, such as saving yourself on your contact list and seeing how that works from a customer's point of view. We'll also be happy to update your staff's contact information whenever you need.
Handover and Training
Prior to handover and training, remainding payments for the digital name cards are required. During our handover process, we'll pass you the unique URLs for each of the digital name card on a neat Excel sheet, plus a guide for your team on how best to use them.
And that's it! If you'd like after-service support, we'll be happy to arrange a meeting with key staff to provide another demonstration or get on a call with you.
We'll also send you yearly reminders for yearly renewal payments at least 2 months before the renewal date for your cards. Enjoy!
Our Digital Name Cards –
Why Are We Better?
Bernard was great and prompt in reply to clients. He also call to ensure he understood client's requirement before proceeding and is very patient. I'm glad to have Bernard handling our account.
Very reactive and easy to deal with, understood our requirements well. Hope to work with you at another occasion 🙂
I would like to express my deepest appreciation to Bernard and the team for the successful implementation of our digital business cards project, which almost did not go through. From our initial enquiry to the final execution, he has consistently gone above and beyond to ensure that every aspect of the solution aligned perfectly with our requirements. In addition, he patiently listened to our feedback, incorporating our suggestions and making valuable recommendations to enhance the functionality and design of the digital business cards. The impact of digital business cards on our networking and marketing efforts, as well as the effect it has on sustainability, will be remarkable.
My special thanks to Bernard Chen and the team, for being patient and an excellent partner in helping us to transform from physical name cards to digital ones.
We have been liaising with Bernard, he is very responsive, polite and always get back to us on time with the solutions and team feedback. Overall, it was a good experience to work and communicate with Dream Fox Team. We are looking forward to seeing the new functions such as self-managing tool/portal for our cards to be online. Thank you.
The Digital Name Cards has enabled me to do more, with less effort. They're beautifully customised to match my profile and most importantly, the clients are impressed!
E Name Cards –
Our Sample Digital Name Cards
Want to test our digital name cards out yourself? Head on to our Digital Name Card Sample page, where we showcase different electronic business card personas for different industries!
Modernise Your Customer Engagements Today!
Introduce yourself to the world without limits. Revolutionise your business and share it with the world, with a tap.
For more details, message us for a comprehensive product deck!