Digital Name Card
Connect the World with One Digital Name Card.
Imagine sending an online business card as a link to anyone, anytime, without limit. Imagine your business presence multiplying with every text message. Imagine what word of mouth or referrals can do. It's like SEO for name cards, and that's just the gist of it.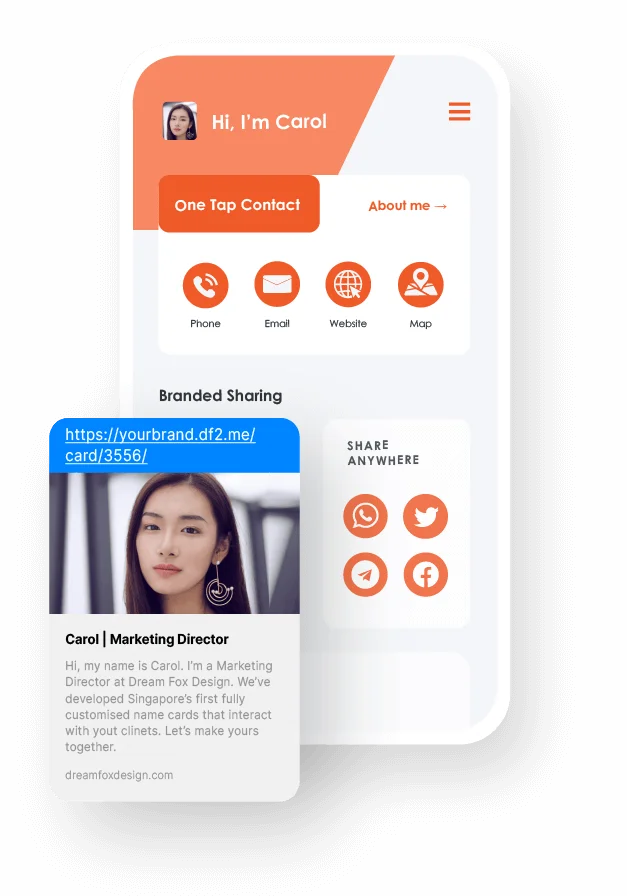 The Digital Card Advantage
professionally designed
Custom designed, made for your brand.
Your cover profile, layout and information are all custom designed individually by our in-house designers according to your business or brand. Portray formal photos of yourself in a business attire to fun pictures of skydiving, or even consider a video profile!
Limitless Sharing
Share your name card across the world.
Because it's digital, both you and your clients can send your online name card to their contacts overseas – it's a fluid referral from local to global. Share your name card infinitely with a massive online social outreach: Facebook, WhatsApp, Email, LinkedIn, etc. Multiply your leads tenfold, all with just a digital name card and a tap on the phone.
EQUIPPED FOR MORE
Empower your team to do more, intelligently.
TAP N SHARE
Bring your share game to another level.
Up your share game with professional snippets and greetings on major social platforms. Be connected across WhatsApp, Telegram, Facebook and Messenger, and more! LinkedIn is no longer the only place for professional connections. When others share, your profile networks for you.
TAP N SAVE
Your contact info, saved on their device.
With a 'Save to Contact' function on your digital name card, your viewers can now save your contact details to their phone easily,  with all your contact info automatically filled in for them. Congratulations, you've beaten your competitors to the punch by being the first in your customers' phonebook!
LIMITLESS PERSONALISATION
Break the space limit of the old name card.
Break free of the old 3.5 by 2 inches of space on a traditional name card. Want to include your experience and background in your profile? Are your achievements and testimonials important for your customers? Solid, let's add that in. Throw in some short descriptions and pictures of your services, and it's hook, line and sinker.
Bring Customers To You With Maps & Navigation
How about integrating Google Maps on your digital name card that immediately highlights the location of your office? 
Directions are just one tap or click away rather than having to open an app and key in your address. For driving customers, you can integrate Waze to navigate drivers right to your doorstep.
Try it Out! Tap on the navigation apps on the digital name card
Modernise Your Customer Engagements Today!
Introduce yourself to the world without limits. Revolutionise your business and share it with the world, with a tap.